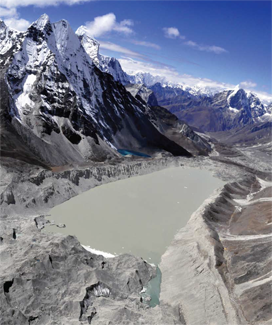 Imja Tsho with Mt. Ambulapcha in the background, 14 October 2010. Photo: ICIMOD
One of the more spectacular effects of recent atmospheric warming in the Himalayas has been the creation of meltwater lakes on the lower sections of many glaciers. In an increasing number of instances, especially well-documented in Nepal, several of these lakes have burst their natural retaining dams (usually old end moraines that were formed when the glaciers were thicker and more extensive that today). This has produced catasphoric flood surges (glacial lake out brust floods or GLFOs) that have destroyed infrastructure and taken human lives the valleys below.
This story map is based on the report - "Glacial Lakes and Glacial Lake Outbrust Floods in Nepal" published by ICIMOD in 2011.